Hosting a wedding at a private residence may seem like a great idea…after all, you're saving money on renting a venue, right? However, the things that we sometimes take for granted as being available at other venues are not at a private residence. Having recently coordinated a wedding at a private residence, I'd like to share some very important things to consider before you say yes to this type of wedding.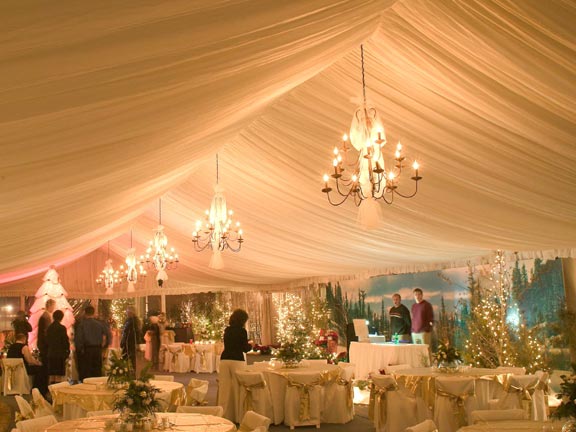 Determine what areas of the home will be used
Will guests be allowed to enter the living space of your home? If so, which parts? Will the festivities be held outdoors? What areas of your home will be off-limits? How many guests are you planning for, and how much space is available for them? These are some of the first questions you should ask before you make this decision.
Consider the weather for the date/season of your event
If you've decided to host your guests outdoors, keep average weather conditions in mind. Guests should be comfortable, so you may need to rent portable AC or heating units so they aren't constantly fanning or shivering during your event. Also, if it rained a few days leading up to your event, is the ground still muddy or soft? Will this affect guests' ability to walk outside easily without their shoes sinking in the ground? If your event is held both indoors and outdoors, how will you handle muddy shoes?
Prepare your home prior to the arrival of your wedding vendors
For example, if you're using some of your indoor space for cocktail hour, make sure furniture has been moved and things of value are put away prior to your wedding vendors' arrival. Your vendors also need to be aware of which spaces they have access to (like the kitchen for your caterers). If access to certain rooms is to be blocked off, it's the host's responsibility to do that before vendors get there.
If you're going to be outside for the festivities, is your yard ready to host guests? The grass should be treated for insects ahead of time and mowed in time for vendors who will need to set up outside. For example, if you're using a tent, the tent company will probably need to set up a couple of days prior to the event, so take that into consideration.
What about restrooms?
Do you want your guests coming in and out of your home to use your bathrooms? For smaller events this may not be an issue for you, but what will you do for large events? You can rent portable restrooms…not the 'porto-potties' we're used to seeing at festivals, but nice portable restrooms that include running water, a mirror and sink for hand washing. You'll need to determine where to set up the restroom trailer, keeping in mind that it needs access to power and water in order to function as designed.
Water and electricity usage
When hosting an event at other types of venues, typically we don't worry about things like water and electricity. But what about for an event at home? Your caterer will need to have access to water and power so they can serve your guests properly, your tent will need power so there's enough lighting throughout the event, your DJ will need power to run his equipment, and your portable restrooms will need water and power to run them. If you don't want to use the electricity from your home, you will need some generators to power everything. Please make sure your generators have enough gas to power everything needed for the amount of time needed (not just the time of the event, but for setup and breakdown time too). And if you decide to use electricity and water from your home, be ready for a much higher water and power bill!
Parking for Guests
There will be an increased amount of people in your neighborhood for your event…where will they park? First, give your neighbors a heads up about what you're planning, so they're not surprised about the increased traffic the day of your event. You may want to consider hiring a valet to handle parking cars, so that cars are parked in the appropriate areas. It's also a good idea to have shuttle service for your guests so they don't have to park in your neighborhood.
After the event is over
You need to have a plan for how you'll get your house back in order after everything is over and your vendors are gone. It may be a good idea to hire a cleaning service to do a thorough cleaning of the areas where guests were located.
Final thoughts
Your wedding vendors, include your wedding coordinator, should not be responsible for preparing your home for an event (unless you're hired them for that specific task). Their primary focus is coordinating your event so that it runs smoothly. Your wedding vendors cannot be a parking attendant, floor sweeper and bathroom attendant all while running your event. J
And although you may be saving money on venue rentals, look at the additional money you'll have to spend on all the other items we've discussed. Having an event at a private residence takes detailed planning and coordinating…be fully aware of that before you say yes!
Happy Planning!