An engagement party is a great way to announce your engagement and celebrate this special time with family and friends! This event is different from a bachelor or bachelorette party or bridal shower, in that it's the event to kick off your engagement period. Start this time off with a bang!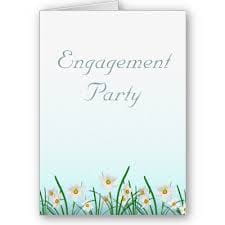 How formal do engagement parties have to be?

Engagement parties can take any form, and can be a formal or informal as you like. Some couples plan to go out to dinner to celebrate their engagement, while others want a fancy soiree with semi-formal or formal attire. As with any other aspect of your wedding, your engagement party should reflect your preferences and personality! Also, keep in mind that your wedding reception is the 'piece de resistance', and should not be overshadowed by your engagement party.



Who pays for it and when should we have it?

Traditionally, the parents of either the bride or groom will pay for the celebration. Or sometimes, close friends will want to host one for you. But who's to say you have to stick with tradition? Many couples are footing the bill for their own celebrations. So, when setting your wedding budget, don't forget to add this in!

Regarding timing, there are no rules. However, if your engagement period is short, it doesn't make sense to have an engagement party, followed by the wedding and reception a short time later.



What about gifts?

Guests may want to give gifts, but they should not be expected. Remember, this is purely a celebration of your recent engagement and upcoming wedding. If guests do choose to give you a gift, do not display them in an area where everyone will see them. Those who chose not to bring one may feel embarrassed or guilty if they see a gift table full of gifts.



Who should I invite?

Be careful with this one…those who are invited to your engagement party should also be invited to the wedding, unless you are planning a very intimate ceremony and reception. It can be insulting to a guest to receive an invite to the engagement party but not the wedding. If you keep the party guest list limited to close family and friends, you should be ok.



Don't stress about whether or not to have an engagement party. If you're able to have one, great! If not, it's still good. There are other celebrations to come, the biggest one being your wedding day!



If you'd like to learn more, please don't hesitate to contact us! Happy Planning!