You and your future husband are diligently getting your wedding planning tasks completed…that's a great feeling, isn't it? One important aspects of this process is deciding on and setting up your wedding registry. There are several types of registries from which to choose, and a few things to think about.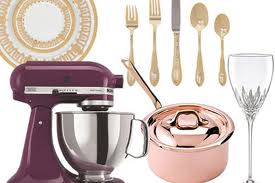 What are some registry options?
Of course, there is the traditional gift registry, where you would visit your favorite store (Bed, Bath & Beyond or Macy's for example) and choose items from the store's inventory of countless items! Before you venture into the store, sit down with your fiancé and discuss the things you would love to receive. Check out what's available on their websites as well.
Also, if you want to take your dream honeymoon, but it's really not in the budget, look into setting up a honeymoon registry. Wedding guests can contribute toward a future vacation for you. Guests can contribute to your accommodations, special excursions, or a romantic dinner for two on the beach. Check out this site…this is just one of several honeymoon registries available! http://www.honeymoonwishes.com/
Are you and your fiancé foodies? If so, how about a foodie registry? Choose the restaurants that you love or that you've always wanted to visit, and your guests can gift you a certain amount at various places. Here's a great example of a foodie registry is http://www.foodieregistry.com/
A charity registry is an excellent way to be a blessing to one of your favorite causes. Instead of buying gifts, your guests make a donation to a specific charity in your name and honor. This is a great option for the couple that has everything and wants to help others while they celebrate their new life together.
Online cash registries are also available for the couple who would prefer a monetary gift. However, be careful of this for 2 reasons: (1) Read the fine print of the site carefully. Make sure you understand how you can withdraw your funds, whether there are any fees associated with the registry, and what happens if the site/company goes out of business; and (2) Be delicate about asking for monetary gifts with your guests. To ask for cash can be perceived as being tacky.
Filling your registry
What do you want to accomplish with your wedding gifts? Do you want to be able to entertain guests in your home? Do you want to be able to pass items down to your future children and grandchildren? What kinds of experiences do you want to have during your once-in-a-lifetime vacation? You must answer these questions before you make any decisions about a registry.
Whatever kind of registry you decide on, make sure it contains items in a variety of price ranges. It's important that your guests feel comfortable with their gift giving (they should never feel like you are trying to enrich yourselves with your wedding). Registries are a guide for your guests, and for the most part, they will depend heavily on it to determine your preferences and tastes.
Your Planning Assignment
Sit down with your fiancé and decide what type of registry you will set up, and the types of items that will be included. Consider things you both already have, as well as things you may want to replace. It can be great dreaming about the things/experiences you would like, so enjoy!