Bridal shows are a great way to learn more about what it takes to plan your wedding. They can range from smaller, boutique events with a select number of vendors to large expos with hundreds of participants. Here are six tips to help you get the most of these events.
Do Your Homework Before the Show
Bridal show producers will publish the names of the wedding vendors who will be in attendance ahead of time. Take a look at their websites and social media sites before you get to the show. This will be especially helpful for large shows, so you can narrow down your focus and use your time wisely. If you're really interested in a particular vendor, you may even reach out to them directly before the show to let them know you will stop by their booth.
Pre-print Contact Information Labels
Most vendors will offer a giveaway at their table…anywhere from discounts or free items connected to their services to gift cards and other items. Rather than write your contact information over and over, pre-print labels with this information and bring them with you to the bridal event. Be sure to include your wedding date on the label as well. This can also help you make the best use of your time at the show…and who wants to write their name over and over? And sometimes, the vendors are not able to read a person's handwriting, so you've got a better chance of the vendor following up with you with pre-printed labels. J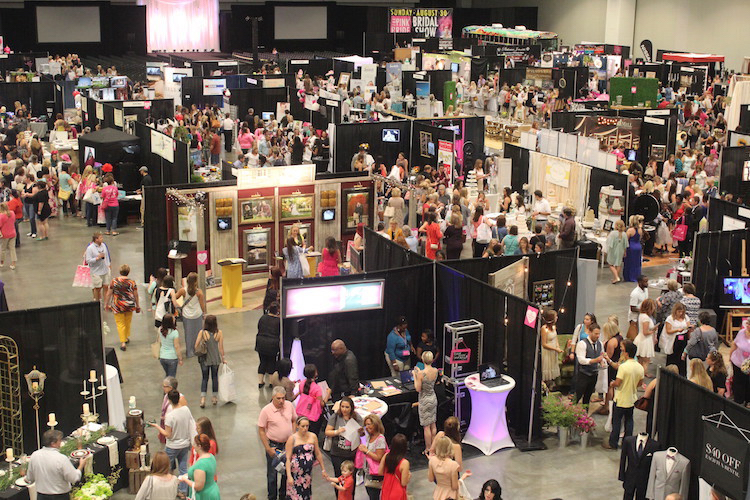 Come to the Show Ready to Learn
Bridal shows are about more than the free giveaways! If you've never planning an event like a wedding before, there may be some aspects that you haven't considered. What do you know about wedding day timelines, or song lists, or flowers? If your knowledge is limited, wedding vendors at bridal shows are available to help you! While they may not be able to spend the entire show just talking to you, they can answer quick questions and would be willing to set up a separate consultation to talk further about your wedding and how they can assist you. Like me, many wedding vendors' initial consultations are complimentary and typically run for 30 minutes to an hour.
Be Kind
Wedding vendors spend time and money preparing for bridal shows. They are presenting their businesses to you in a positive manner and hope to be well-received. There may be some vendors that you're just not interested in, especially if you've already booked someone. If you're not interested in someone, it's ok….just let me know kindly. It's fine to say 'No Thank You,' with common courtesy being the order of the day.
Organize Everything You Received at the Show
You will get a LOT of information from vendors at bridal expos…including business cards, flyers, postcards, and pens. Take some time after the show to organize everything while the event is still fresh in your mind. Organize by vendor type (planners, photographers, florists, etc.), then review their websites and social media pages. Be sure to jot down some things you learned about them from the show, so you can make an informed decision about your interest in their services.
Follow Up After the Show
The week after the show, it's important to follow up with those vendors that you're really interested in. Let them know that you met them at a particular event, and if you had a chance to talk for a few minutes, remind them of what you discussed. Vendors will also follow up with bridal show attendees, but if you know you want to book someone quickly or learn more about their services, set up an appointment quickly before someone else does! J
Bridal expos can be a great way to get information to help you plan your wedding. Use these tips to help you get the most out of the time you spend there. Enjoy and have fun!