Wedding gifts can be one of those things where guests tend to hit a bump in the road trying to figure out what to get the bride and groom. What do they need? How much should I spend? What is appropriate? Wedding guests, some of these questions may arise, so follow these tips to ensure a well thought-out gift.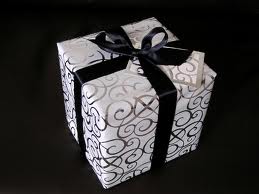 Consider The Couple's Registry
More than likely, a couple will have a registry either in-store or online. Many couples have a wedding website and will generally provide their registry information via a link from their site directly to their gift list. The registry is a complied list of things that the couple needs and wants, as they work to set up their home together. With the registry as your guide, you can never go wrong with wedding gift giving; you were well informed!
Is it Okay to Steer Away from the Registry?
Although couples have a registry for items that they might need or want, as a wedding guest you may still want to find items on your own. Be sure to consider practical items for everyday use or personalized items they can both use. Refer to the registry as a guide for a gift, so you have an idea of the couple's taste.
Group Gifting
Sometimes funds don't allow for you to give the gift you really desire. Consider getting a group together to pitch in for an elaborate gift of luxury, such as a place setting for their china set or a large kitchen appliance. Or you and another guest can pool your resources for a gift card to the couple's registry location. Another option could be to make a contribution to the couple's honeymoon. There are several honeymoon registry sites out there, so be sure to do your research and choose a reputable one.
Money is Always an Option
It is quite common for couples to receive cash or a check as a wedding gift. There can be mixed opinions about giving money; some may see it as not being personal or inventive, while others look at it as an easy way to give a couple exactly what they want. Money can be used as a resource for those couples who are just starting out and need to invest in something big (such as a down payment on a new home), or can also be used towards a honeymoon. If you are not comfortable with just giving money, consider a small personal item in addition to cash or a check. While receiving money is okay as a gift, it is NOT in good taste for the couple to ask for money.
Take a Non-Traditional Approach to a Traditional Gift
It is common to get gifts like cookware, bedding items, or anything for the home. Give the couple something they will really remember or can take advantage of as they are in wedding planning mode, or right after their return from their honeymoon. Try a gift card to a nice restaurant (where they can celebrate an anniversary or special occasion), a nice weekend getaway or even the gift of a cleaning service (I'm sure the brides would like this one). It's okay to stay traditional, but for those who are looking for some originality, this is a great option.
Keep in mind that the couple is probably not in the position to take gifts home immediately after the wedding. Send gifts, especially cumbersome ones, to the address listed on the registry. Remember to consider your budget when shopping for your wedding gift and plan ahead. You know when the wedding is, so make a timeline of when you need to purchase the gift and set some funds aside as needed. And lastly, consider the relationship you have with the bride and groom; if you are close, spending a little extra money should be a pleasure, not a burden. Happy Gift Shopping!