In the hustle and bustle of wedding planning, sometimes we forget to focus on this fact….after the wedding, there is a MARRIAGE! Once you return from your honeymoon, your normal life will resume (work, school, etc.) – with the addition of your spouse and his or her schedule, personality and idiosyncrasies to factor in! So how does a person adjust to this major life change, and how does a couple handle issues that may arise? (and trust me, they will!)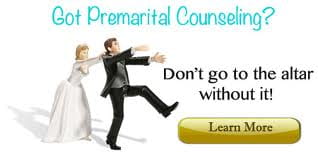 Pre-marital counseling is an excellent way to help cope with this major life transition. In counseling sessions, you will delve into such topics as communication, finances, household chores (somebody has to clean the bathroom!), family life, and spirituality. Counseling can also address the post-wedding depression that some couples face after all the wedding planning tasks are done (what do you do with yourself?) An article posed on goodtherapy.com on May 14, 2013 entitled "Pre-Marital Counseling" states that the divorce rate is about 50% for 1st marriages, 67% for second marriages, and 74% for third marriages. So why not do something to help you so you don't become one of those statistics!
If you are getting married in a church or another religious setting, clergy may require that couples complete pre-marital counseling (make sure you are aware of this requirement up front, so you can include it in your wedding planning schedule). Some churches may not allow you to set your wedding date until you've completed counseling so keep that in mind. If you are interested in secular counseling, seek out a Licensed Marriage and Family Therapist to work with you.
And lastly, some states offer discounts on marriage licenses for couples who have completed pre-marital counseling! (check your individual state's requirements for details).
Your Planning Assignment
I encourage all of my couples to make time for pre-marital counseling. It's an investment I believe will pay off for years to come!