As you begin planning your wedding reception, one of the first questions you should answer is "will we serve alcohol?" Some brides, for various reasons, choose not to have it available for their guests, while others believe it's an absolute necessity! If you say 'yes' to offering alcohol, it's important to learn more about the options available to you.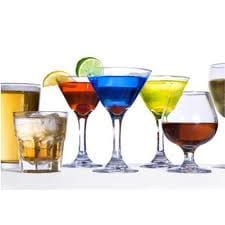 Open vs. Cash Bar
Once you've said 'yes', the next question to answer is whether to offer an open or cash bar. An open bar is one where your guests can enjoy drinks at no costs, while a cash bar is one where your guests are responsible for purchasing their own drinks. You can also offer a combination of these 2 options (an open bar during cocktail hour and a cash bar for the rest of the evening, for example), but these are your basic choices.
How will I be charged?
There are a few ways that venues and bar services determine the final costs: (1) Consumption – bartenders will keep tabs on how much is actually consumed, including how many drinks and how much of each type of alcohol are served. In this case, you may be also charged for a half-used bottle. (2) Per Person – you will pay a flat fee per person. When you are visiting venues or looking to hire a bar service, ask them how they determine your final bar tab.
How many bartenders will I need?
The general rule is 1 bartender per 75-100 guests. What you don't want is your guests standing in line at the bar for long periods of time. And you will be charged per bartender per hour he or she is on duty (this must be factored into your final costs).
How can I save money and control my costs?
Offering liquor can be a large expense for you wedding, so here are just a few things you can do to keep the costs under control (the last thing you want is to be surprised at the bar bill at the end of the night!)
If you have an open bar, offer house brands instead of premium brands
Limit your bar to beer and wine
Offer the open bar for a limited time. As we mentioned above, you can have it available only during cocktail hour, then convert to a cash bar. You can also close the bar an hour before the end of the evening (in fact, I would highly recommend this for whatever option you choose, so that guests are not having a last drink right before they leave the reception)
Offer a signature drink as your main alcoholic beverage, so you can limit the kinds of alcohol that can be used. It's good to include beer and wine with this option too
Do not include those you know do not drink in your final liquor count
Your Planning Assignment
There is a lot to consider when deciding whether or not to offer alcohol at your wedding reception. Because it can entail a large portion of your budget, choose wisely and carefully. Happy Planning!