In a previous blog, we talked about what a WeddingMoon is (if you missed it, be sure to click here to check it out). In this blog, I want to highlight some additional benefits for choosing Sandals or Beaches all-inclusive resorts for your WeddingMoon!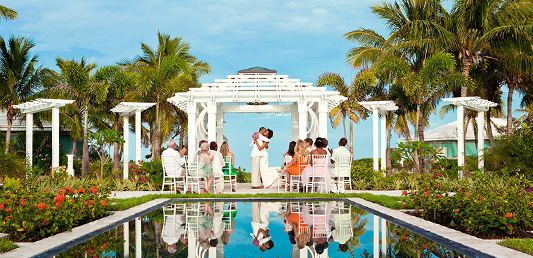 1. You have a Certified Sandals Specialist (like me) who can introduce you to what each property has to offer and can recommend room categories, amenities and activities that are just right for you. Once you've booked your WeddingMoon, that's when the fun really begins!
2. After you've chosen your date and booked your WeddingMoon, you then have access to a dedicated team of not only your Certified Sandals Specialist, but also a wedding concierge, a wedding planner, and a document specialist. And once you arrive at the resort, you'll have a wedding planner, wedding captain and dedicated setup and catering team to make things happen the way you envision them!
3. But before you even book with Sandals or Beaches, you have access to a FREE Wedding Designer Tool, where you
can design your dream wedding online. You can choose a pre-designed theme, or create something all your own Just click here and have at it! (Note: you cannot book on this site…just design).
4. Depending on how many nights you plan to stay at your destination, you may receive credits that can be applied toward your wedding or other amenities or even jewelry and gifts! You can get up to $1500 in credits (wow!)
5. Your Wedding Moon team can also assist with setting up a room block for your guests traveling with you. They make it easy for your guests to choose their room and set up payment schedules (and the good part is, you don't have to deal with it at all!)
6. If you're not sure that Sandals or Beaches is right for you, why not take a test drive! Two people can experience any resort for two nights prior to booking. The cost will vary by resort, so be sure to work with your Certified Sandals Specialist to get more details.
7. Lastly, after your WeddingMoon, you are eligible for a free night at any Sandals or Beaches resort to celebrate your anniversary. What a great way to relive the memories of your WeddingMoon!
If you're concerned that you won't get the wedding you dreamed because you can't travel to your destination for planning, or if you don't want to deal with the hassle of planning a wedding in another country, no worries! Sandals and Beaches offer these benefits and more to alleviate the stress of planning a long-distance wedding so you can enjoy being a bride!
If you'd like more information about what Sandals and Beaches resorts have to offer, please visit our website here for more information.
Happy Planning!