There are several extremely important decisions that must be made during wedding planning (your wedding date and venue are two of them). Another very critical decision is regarding your caterer. You want your guests to enjoy the food and beverages that are served at your wedding, and you want the service to be impeccable (there's nothing worse than bad food or service at a wedding reception!) Here are some important questions to ask a potential caterer: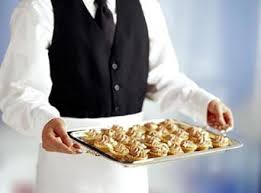 How long have you been in business?
Your wedding caterer must have experience, especially with weddings.
Can you prepare menus for a particular type of cuisine (i.e., Italian, Cajun, Asian)?
Does your fiancé love Italian? Or does your wedding theme call for a certain type of food? It's good to have an idea of what you like (although you may not have an idea of exact dishes yet), so you can share that with potential caterers when you meet with them for the first time.
Can your menus be customized?
Many caterers provide standard menus for your review and consideration. But what if there's something on the standard menu you don't like? Be sure that they are willing to add or remove items to make the menu exactly what you desire.
Do you have liability insurance?
The answer should be 'yes'! This is a requirement for all businesses that handle food and beverages. You want to make sure you are protected just in case.
Do you offer a tasting?
Some caterers schedule regular tastings (i.e., monthly) and all you need to do is RSVP and attend. Others will offer private tasting where you can taste menu items you would like to consider for your wedding. Be sure you understand which kinds of tastings your caterer provides.
What are you service and gratuity charges?
Service and gratuity charges are standard in the food and beverage industry. Be sure you understand clearly what percentage of your total bill they are, so you can have a true picture of what your catering costs will be.
How many servers do you provide?
Your caterer will provide the number of servers based on your guest count, and whether your meal is plated or buffet. The objective is to provide enough wait staff so that your guests can be accommodated in a timely manner (it should not take 2 hours to serve a group of 100 people!)
Do you provide china, stemware, flatware, linens?
This information is probably included in a caterer's standard menu information, so be sure you are clear. You will need to be aware if they are not providing linens for the serving table (for example).
How much set-up time do you need?
The last thing you want is for your guests waiting to be served because the food is not ready! Find out how much time they typically need (once you book them and decide on your menu, they will give you a detailed timeline regarding set up).
How much of a deposit is needed to book your services?
As with any wedding and event professional, a deposit will be required to book your date. If you've fallen in love with a caterer, book them right away (before someone else gets your date)!
I hope these 10 questions are helpful to you as you move forward in choosing your wedding vendors. Please feel free to post your comments about this blog…we'd love to hear from you!
Happy Planning!