Wedding planning can be a lot of fun! Visiting vendors, tasting cake, and trying on beautiful are exciting parts of getting ready for the day you've dreamed of. When planning a wedding, you're investing a lot of time and money, and you should want to fully understand where your money is going. That's where contracts come in!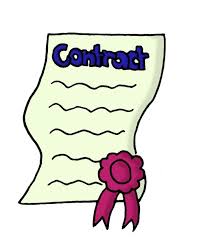 Dictionary.com defines a contract as "an agreement between two or more parties for doing or not doing something specified" or "an agreement enforceable by law." It spells out specifically what is being provided, outlines how the two parties (you and the vendor) will interact with each other, and what your specific obligations are. A contract reduces the chance of misunderstanding or misinterpretation between the two parties. No one's memory is perfect, so having important details in writing protects both parties and makes sure everyone is clear on them.
Here are four tips to keep in mind regarding contracts as you visit vendors and venues:
Read everything before you sign it!
This may seem like a no-brainer, but please don't ignore this. Don't get so caught in the excitement of deciding on a vendor that your business sense goes out the window! Additionally, please be sure to read and understand fully the cancelation clause included in each contract. No one anticipates having to cancel a wedding, but things can happen. Make sure you understand what the ramifications of canceling a contract with a vendor are.
If you don't understand something, ask questions!
If there is a particular clause in a vendor's contract that is not clear to you, please ask them to explain it to you. The vendor should be more than happy to take time to make sure you completely understand; and if they aren't, choose someone else!
Keep copies of receipts and contracts in one place so you can easily access them.
Take a few minutes to organize your contracts and payment receipts. If there is a question about how much you owe at any given time or when your next payment is due, you're able to easily access this information.
Make sure ALL items agreed to are in writing and included in the contract.
Sometimes, vendors may offer to do something extra for you. For example, a floral designer may offer to provide you with a free toss bouquet, or a linen vendor may offer you a free upgraded linen on your cake table. If they do, make sure it's added to the contract. Don't depend on a verbal agreement to provide extra services.
I hope these tips are helpful to you. While you're using your design sense to plan your wedding, don't forget your common sense! J
Note: I am not an attorney, but I share this based on my experience in the wedding industry. Please consult an attorney for any specific questions/issues regarding contracts.