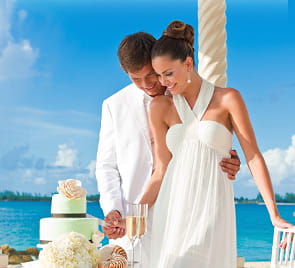 Have you envisioned a beautiful destination wedding followed by a fantastic honeymoon? Why not combine the two of them?
What are the benefits of combining your wedding and honeymoon in one location?

When you travel to your wedding location, you are already at your honeymoon destination
Your family and friends can make a vacation out of your wedding
There are many activities for family and friends to engage in….you will still have your privacy!
If you're having some challenges with reducing your guest list, this is a great way to do it!
Who can help me plan my wedding and honeymoon?
One all-inclusive resort that offers destination weddings and honeymoons is Sandals! Sandals offers great amenities for this special kind of event, some of which can include:
Private pre-wedding celebration for your group
Group pre-registration and check in
Commemorative gift from Sandals for your group
Decorated Honeymoon Suite
and many more!
For your wedding, you can choose from a free wedding package, a pre-designed wedding package, or a customized wedding package…the choice is yours! You will also have access to a personal pre-travel wedding planner, personal resort wedding planner, as well as your dedicated resort wedding team…all the support you will need to plan your big day!


Want more information? Just click on this Sandals link, then go to "Weddings and Honeymoons"!
Happy Planning!