Honeymoons are a wonderful way to continue the celebration of your marriage and start your lives together as a couple! It's the vacation you've been looking forward to, after months of wedding planning and preparation. While some couples choose to delay their honeymoon, I encourage couples to start planning it as soon as they start planning their weddings, and to take their honeymoon right after the wedding.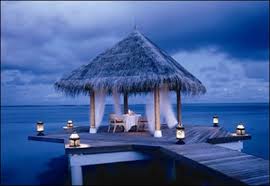 Where do you want to go on your honeymoon?
Your options on honeymoon destinations are endless! What kind of place do you want to visit? Does an exotic island suit your fancy, or is a week skiing in the mountains more your cup of tea? Or how about a cruise to the Caribbean? Write down the places you've always wanted to go and determine where you and your future spouse's lists match! When considering locations, keep in mind time of year….you may want to re-think a Caribbean getaway during the peak of hurricane season! Here's a great site to help you get started: http://www.bridalguide.com/honeymoons
What do you want to do on your honeymoon?
Do you want a week filled with fun and adventure, or a quiet, relaxing and rejuvenating vacation? Or a little bit of both? Once you've narrowed down your destinations, find out what activities are available to you there.
What about an all-inclusive resort?
These are great options to consider. The total cost of your trip will include your accommodations, meals (including beverages), taxes, gratuities, and even some excursions! The benefit of choosing an all-inclusive resort is that you know how much your honeymoon will cost upfront. Our favorite all-inclusives are Sandals and Beaches resorts, located in the Caribbean. Visit our website to check out their properties.
What is a Honeymoon Registry?
TheHoneymoon.com says that a honeymoon registry is "a wedding registry for your honeymoon" and "has become the registry of choice for couples that have enough household 'stuff'". This is just one example of a company that offers a fully automated honeymoon registry online for guests to easily give toward your dream vacation. Check out their website at http://www.thehoneymoon.com/info/aboutregistries
Practical Tips
• Decide on a honeymoon budget. This should be incorporated into your overall wedding budget.
• If you are traveling internationally and do not have a passport, work on getting it now! For details on how to apply for a passport, visit http://travel.state.gov/passport/passport_1738.html
• Consider purchasing travel insurance. Insurance packages can cover such things as trip cancellation and baggage delay. Just like wedding insurance, travel insurance can give you peace of mind and protect you from the unexpected.
• If you plan to use frequent flyer miles for your travel, start planning early. Be mindful of any blackout dates that may apply.
• Use a reputable travel agency to plan your honeymoon. Travel agents that specialize in honeymoons are the best, as they have built relationships with resorts and destinations, and can sometimes offer you special tips and even nice extras (such as champagne in your room upon arrival or breakfast in bed your first morning there).
Putting thought and effort into your honeymoon will make all the difference in the world, and will help make this the trip of a lifetime! Happy Planning!!