Have you always dreamed of getting married outdoors?
Whether it's the beach, a farm, or a large family backyard, there are several
things that must be considered when planning this type of wedding.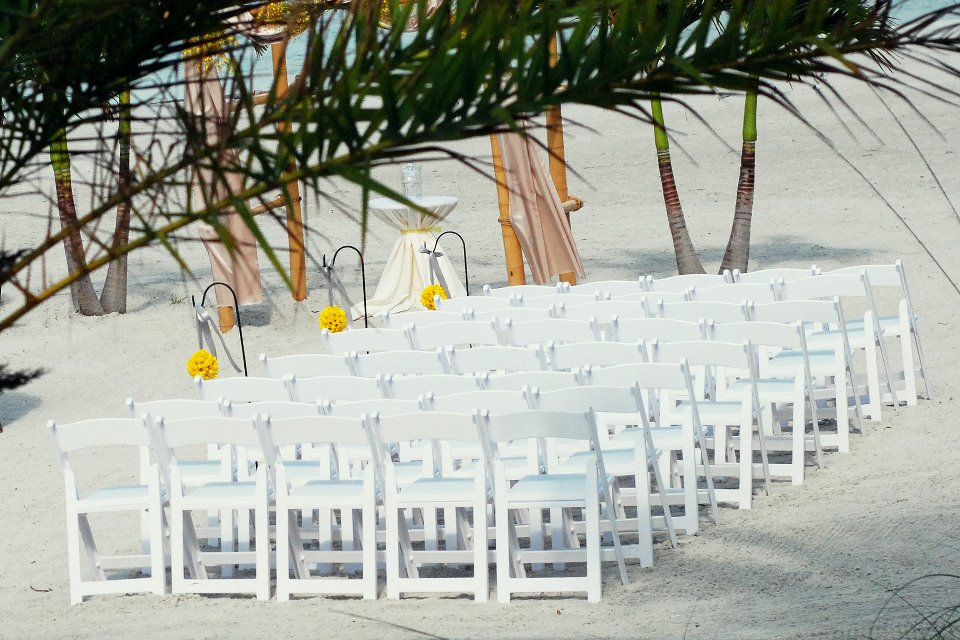 What time of year/season is your
wedding?

One of the first things you should do is take a
serious look at where you plan to marry and how the weather typically behaves
around your wedding date. Are you getting married in the southern part of the
US or on an island during the summer? If so, don't forget about hurricane
season! Is your wedding date in the middle of winter in the northeast? If so,
don't forget about snow storms! Yes, the weather is unpredictable, but you can
expect to have a certain kind of weather during certain seasons of the year.
What are my options for keeping
my guests comfortable while outdoors?

One
of the best things to consider is tents. Tents can provide overhead covering
only, can include curtains for an airy feeling, or can be completely enclosed
with 'windows' around the sides and even skylights in the ceiling (a skylight
is an excellent idea for evening events, so you can see the stars!) If your
concern is cold or hot weather, tent heaters and fans can be rented to make the
space very comfortable (in fact, they can feel so good, your guests may forget
all about the weather outside!)
Things to consider when planning
an outdoor event
Planning an outdoor event takes much more coordinating
than an event in a banquet hall or hotel ballroom. Some of the items you will
need to rent include chairs, tables, china, linen, silverware, glassware, and
lighting. And depending on where you plan to set up, you may also need to rent
restroom facilities for your guests. If your tent is open, don't forget about
insect repellent, so your guests are not swatting bugs away all night!
Should I have a Plan B?
Absolutely!
What if a major storm is predicted to blow through your town on your wedding
day? Yes you may have a tent lined up, but if the winds are too strong, it may
not be an option for you. Always have a plan B in place to address the
unexpected!
Your Planning Assignment
Ponder
the option of an outdoor event very carefully. Because of the many details that
have to be coordinated and executed, an event planner may be just the person to
help you pull it all together!
Happy Planning!