Whenever you meet with a wedding vendor for the first time, you should be prepared (we appreciate when you've taken the time to learn about our services before your meeting, and have questions prepared for us. Here are my suggestions on the top 10 questions you should ask a wedding officiant.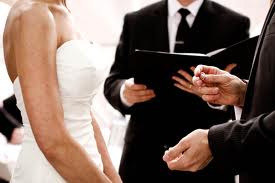 Can I customized my order of service and vows?
You may want to choose your own words, or have the officiant suggest things for you. It's important that your ceremony be everything YOU want it to be.
Do I have to be a member of a church, temple or synagogue to use your services?
This is very important to understand before you go too far with booking a particular officiant.
What other services do you offer (pre-marital counseling, ceremony coordination)?
Many officiants also provide pre-marital counseling (either religious or secular) and can also coordinate your ceremony if you do not have a planner.
Will you file our marriage license with the county/parish?
The answer should always be YES! You're not officially married until the government says you are! 🙂
Do you have suggestions/samples for orders of service and vows I can review?
If you don't have a clue as to where to being, a wedding officiant can help you get started.
Do you conduct non-denominational services?
If you do not belong to a particular denomination, your officiant can help plan a ceremony that's just right for you.
Will you conduct my wedding rehearsal?
Be sure to understand whether conducting the rehearsal is included in their service or can be added on for an additional fee.
How far in advance do I need to book your services?
Don't wait until the last minute to book your officiant. The very popular ones book quickly!
Are you open to performing inter-faith or non-religious ceremonies?
If you and your future spouse are of different religions, or not at all religions, be sure the officiant can accommodate your specific needs.
How much of a deposit do you require to book my date?
You haven't booked their services until you've provided a deposit (of course!)

We hope these questions are helpful! Happy Planning!